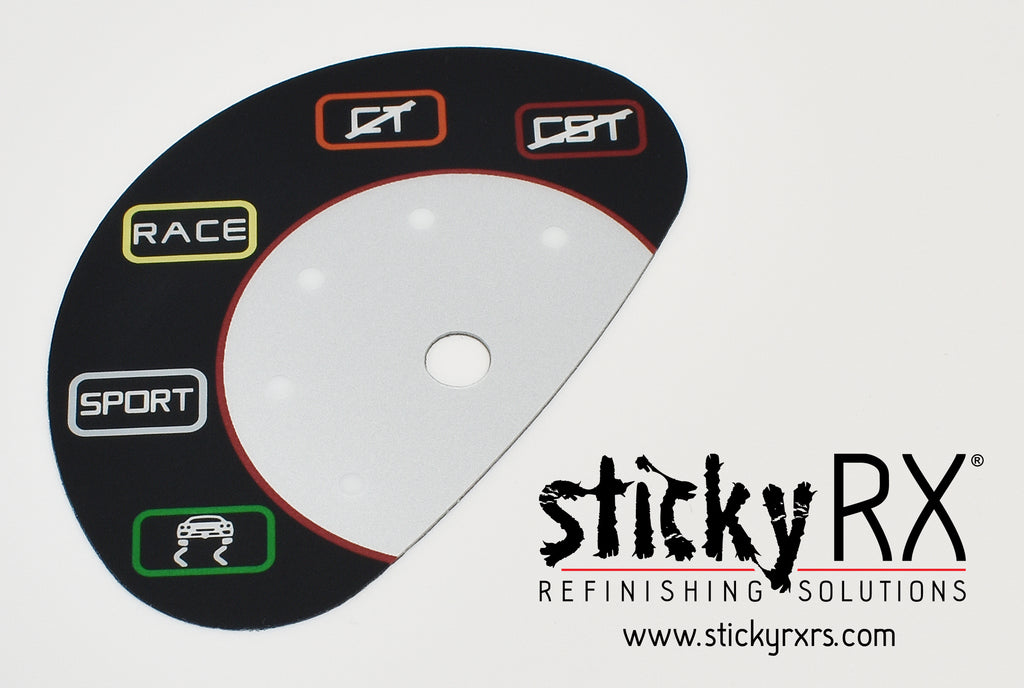 Ferrari 430 Scuderia Manettino Overlay, Gen II
Part Number:
Is your Manettino Overlay Sticky and Bubbling? If so, Sticky RX Refinishing Solutions has the perfect fix! We are pleased to announce our new Gen II, Factory Correct Manettino Overlay.
Ferrari does not sell this separately - you must buy a complete new steering wheel at a crazy price (thousands of dollars)
This overlay is produced with a soft touch coating just like the OEM. Why the soft touch material?
Overlay technology is a silk screen print process on the back side of plastic sheet material. Many different materials are available: some are smooth, others have texture (fine and coarse). The challenge is selecting a plastic material surface to match a painted surface - especially our coatings which are very smooth and have almost no texture. And, it's not just texture, it's the sheen of the plastic sheet too. In order to overcome these challenges, we have selected a soft touch material because it is the only material we could locate that matches the painted surfaces almost perfectly.
We did initially have concerns about this material getting sticky, however, this same material has been used on fork-truck overlays for over 10 years in harsh warehouse environments with no failures. That case study provided the confidence we need to move forward with this material. All Sticky RX GEN II overlays use a soft touch material.
Note: Only the overlay is included, not the selector dial - that is shown for illustration only.
We warranty this overlay for 5 years (from date of purchase) against bubbling or coating failure (sticky) Please note: Improper installation is not covered under warranty. Please carefully look your overlay over prior to installation, once installed, or attempted to be installed, we can not be liable for any defects. Rigorous inspection has gone into these prior to packaging.

---
Share this Product
---
More from this collection